Customer Acquisition Messaging Assets
Assets are designed to be deployed across three marketing motions. These assets should support demand-gen efforts as well as serve as "air cover" for later-stage opportunities.
motion 1:
GENERATE INTEREST
motion 3:
CONVERT TO PIPELINE
These assets were derived from a Conversation Master—a complete messaging source document. It was created by a cross-functional Shutterstock team using decision-science techniques meant to dislodge clients from their status quo and create preference for Shutterstock from the very first point of engagement.
motion 1: generate interest
Prospects aren't sitting around waiting for someone to come knocking. To get a foot in the door, Shutterstock must first offer a new perspective—one that disrupts their status quo and compels them to make a change.
The purpose of this motion is to generate hand-raisers—net new prospects who demonstrate interest in Shutterstock and/or its offerings.
why change ebook
The e-book is a compelling and consumable way to articulate a Why Change message to prospects. It can be offered as a downloadable asset to email contacts or as a gated asset to generate hand-raisers through social media channels.
display ads
Use these attention-grabbing display ads to promote your e-book across web channels.
social ads
Generate hand-raisers by using this sponsored content to promote your e-book on social media.
email content
Use your Why Change-focused email content to engage with contacts and drive asset downloads.
The purpose of this motion is to reinforce your messaging from the Generate Interest motion with a focus on getting a meeting with prospects who have demonstrated interest in Shutterstock and/or assets in its previous Generate Interest Motion.
Why Change teaser video
The animated video provides a short, teaser-like experience of a Why Change story—perfect for posting to social media channels and delivering via marketing emails.
why change infographic
The infographic provides a rich, highly visual experience that explores the key themes and challenges of a Why Change message.
motion 3: convert to pipeline
This motion reinforces your Why You message after prospects have met with sellers and/or after they've indicated interest in particular solution or challenge area. These assets make for great additions to retargeting or account-based marketing campaigns. The purpose of this motion is to convert an interested prospect into a viable opportunity in a pipeline.
challenge briefs
Your challenge briefs are short, skimmable assets that dive into specific challenges prospects are experiencing and show how they can overcome them through Shutterstock's differentiated capabilities.
challenge teaser videos
To support digital marketing efforts in the latter stages of the deciding journey (i.e., retargeting), use your challenge teaser videos to reinforce your Why You stories and drive downloads of your challenge briefs.
display ads
Create a seamless, sustained digital journey for your prospects by serving them with display ads relevant to the challenge they are facing.
social ads
Use social media content to promote your challenge briefs and reinforce your differentiation around your prospect's challenge areas.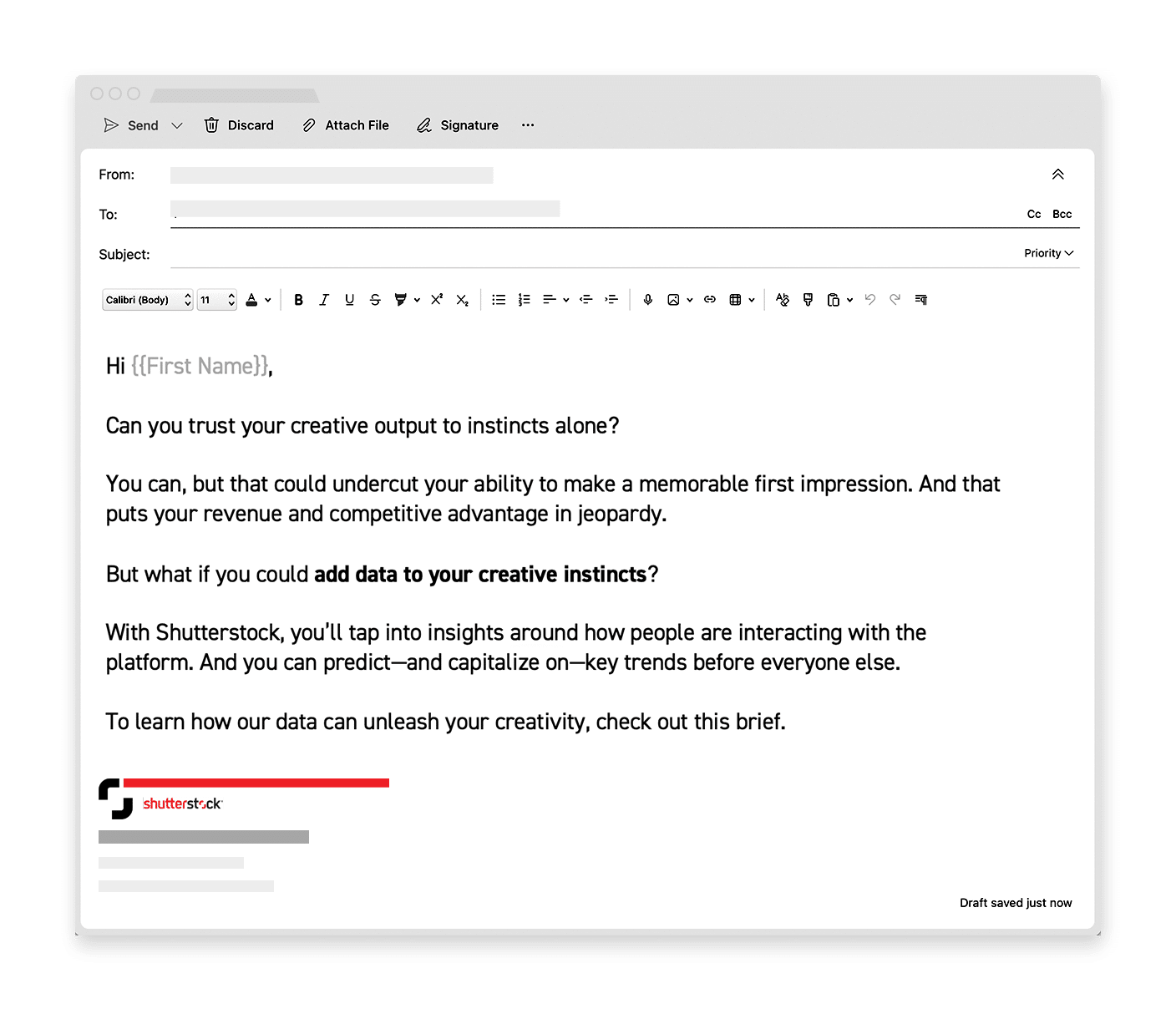 email content
Deliver targeted emails mapped to your prospects' challenge areas with content that drives engagement with your briefs and videos.
What if you could win the moment with content that meets the mindset of your buyer?
Contact your CVI rep to get started.